KTBWOS is a little meme that I created as a way to get the bonus point "Blog about it" out of the way. Plus, it's easy to find giveaways this way too. :D
Here's this week's line up:
#1
I know, it's a nice stack of books. Well, I couldnt' find a good blog button of this blog, but this awesome giveaway is a box of books from Cornucopia of Reviews.
What is this giveaway for? It's her blogoversary and she passed 900 followers!
Awesome huh?
Well, to enter: click below.
#2
What's she giving way?
A SIGNED copy of Delirium by Lauren Oliver.
A copy of Unspoken by Sarah Rees Brennan .
A copy of Mark of Athena by Rick Riordan.
Why?
Her site has been having technical difficulties and she's having a giveaway to make up for it.
Awesome, right.
Click below to enter:
#3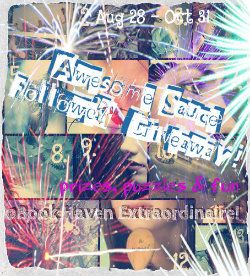 It's kind of hard to see this button, but the Book Haven Extraodinaire is having an awesome giveaway in celebration of reaching over 360 followers. For this giveaway, she's having a guessing game giveaway. It's a lot of fun to try to get them right. :D
And get this: the winner will get all of the hidden books!
The button is to the right or click below to enter:
#4
Everyone knows who these two are right? Well, these two are hosting an awesome giveaway to promote their Book Exchange 2.0.
One winner will get a book of their choice from TBD. :D
To enter, click below:
#5
Anyone who's anyone in the blogosphere knows about Books Twirps monthly giveaways.
For this blogging point, it goes towards Proserpine Craving Books, who's giving away a nice crop of October released books. :D
To enter, click below:

Wow. That's a lot.
Until Next Time!