This little meme is to show you guys what giveaways I've currently found.
Awesome giveaways.
Here's today's:
Unfortunately, there is no button for this awesome giveaway, but it's by:
It's the only button I could find. Anyway, she's reached 1200 Followers, and to celebrate, she's giving away a $25 GC to Amazon or B&N. Awesome huh?
Click below to enter.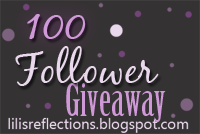 100 followers. Now she's past that. But I remember when I reached 100 followers. I was very happy.
And Lili is too. To celebrate, she's having a little giveaway. She's giving away an ARC of--
--to one winner. Not all of them of course. Just one. But the list will continue to grow as the giveaway goes on. Awesome huh?
To enter, click the button on the right or below:
That's all. :D
Until Next Time!