Bringing giveaways to the book lovers of the world all in one post.
Here's this week's birds:
#1
Sarah Elizabeth is having her 1000 Follower Giveaway!
Congratulations to her!
For this giveaway, one INT winner can win 30 euros in books from TBD. Any books.
To enter, click below:
#2
Writer of Wrongs doesn't have a button, but she is having three giveaways.
Two are international, one is US only.
1) For one winner, a pre-order of a 2013 release.
2) For one winner, a book that she read last year.
To enter these giveaways, please click on the links above.
#3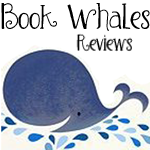 Isn't that button so cute?! I think so.
Anyway, Book Whales Reviews is celebrating their One Year Blogoversary!
WOOHOO!!
And for her giveaway, she's giving away a book of choice from a list she has to one INT winner.
Here are the books:
Unfortunately, only one.
But to enter, click below:
#4

The Life of Fiction is holding a giveaway for:
One HB of
This giveaway is only US only, but INT people should still look this book up.
It sounds awesome.
Anyway, US people, to enter, click below:
#5
Bookaholics is turning two!
For her two year blogoversary, she's giving away:
50 euros or currency equal to it.
So, to enter, click below:
Well, that's all!
Until Next Time!