I loved this book! Debbie Mason is a brilliant writer who crafted an amazing story about finding love again. While I hated that there was a love triangle and Grace's insecurities made her a bit...irrational, I loved that Jack never gave up on winning her back. I loved Jack, though he was a total idiot for what he did to Grace before he lost his memory. And then while he was gone, he was still an idiot, even if he did lose his memory. I loved how everything worked out, but I kinda feel that Maria's back-story was a bit overdone. If you read the book (which you should), then you'll know what I'm talking about. Overall, this book was really good. (I will admit though, I skipped the first two chapters because they sounded a bit boring to me).
5 starfish!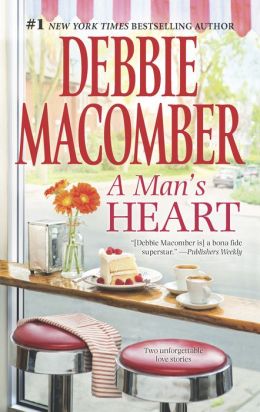 Like all of Debbie Macomber's books, I loved this one. While some may not appreciate some of the cheesy romance Debbie may sometimes come up with, I love it. Reading her books makes believe that there are great guys out in the world waiting for their other half to find them. (Yes, I'm a romantic. Sue me.) What I loved about the first story,
The Way to a Man's Heart
, was that the character's age difference didn't matter to them. And no one judge them! In the second story,
Hasty Wedding,
the main heroine didn't care that her husband was Indian. Getting past all the prejudice and seeing him the man he is, the heroine fell in love and forgot about her awful ex. Yes, some of parts of the stories is unrealistic and cheesy, but isn't that what makes a great romance novel? I think so.
5 starfish!
Image from Barnes N' Noble