Giving you giveaways every post at a time. :D
Single giveaways, of course.
(It's going to be a while till the next Killing Two Birds With One Stone)
So, today I have for you........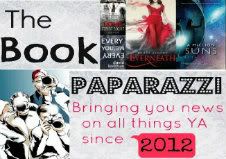 As many as you know (or now know) The Book Paparazzi is a blogging site dedicated to promoting books, giveaways, events, new releases, etc. All done by our friends over at
Fiction Freak
and
Read-A-holicZ
. So, in honor of their new site, they are holding a giveaway for a mystery box of books for one winner to win. :D
YAY!!! MYSTERY BOX OF YA BOOKS!!
So, head on over to their cool new site and enter yourself. The Book Paparazzi is an awesome way to learn about things happening in the blogging universe. :D
Link is right here or the button is on the right hand side.