KTBWOS is a meme I do myself to blog about giveaways all at once. I'm not a fan of posting about several giveaways in different posts. This way, it's fun and they're all in one place. :D
Here we go!
This giveaway isn't one for something extra special, it's just cause. Over at Never Ending Stories, she's giving away one signed copy of..........
YEAH, THAT'S RIGHT! RAPTURE!!!
There are plenty of ways to gain entries, so head on over and enter!
Next!
It's FireStar's 600 Follower Giveaway! For this, she's giving away to two lucky winners a book of their choice from a list she has on her giveaway site, preorder or not. :D
There's no button, but her blog button is very cute. :D
Go over now!
Next!
Ooh, 500 Followers!
Congrats goes to....
She's reached 500 Followers! (lucky) Anyway, for this, one lucky winner will win a book of their choice from TBD worth $10 or 8 euros, since it's international. :D
Last!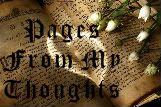 Yep, she's at it again, but this time with.......
Beautiful isn't it? Well, on this guest post by Anne Greenwood Brown, a signed copy is being given away. :D YES!
I would go now; there's over 3000 entries so far!
That's all. Until next time!