Okay, for today's GA, I have.....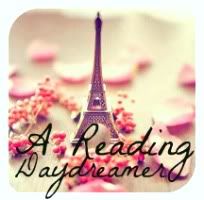 Isn't that button cute! I think so.
Anyway, A Reading Daydreamer is a blog I just came across through another blog's post.
In it, it's kinda Paris/Dreamy theme is very cute. She blogs about YA books and very established.
So, for her giveaway: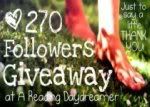 she is giving away "YA book of your choice (up to the value of £7/$11) from TBD".
And it's international!
Yay!!
So, head on over to congratulate her (even though she surpassed 270 a while ago) and enter her giveaway.
Link is on the right or right here: