What was once the western United States is now home to the Republic, a nation perpetually at war with its neighbors. Born into an elite family in one of the Republic's wealthiest districts, fifteen-year-old June is a prodigy being groomed for success in the Republic's highest military circles. Born into the slums, fifteen-year-old Day is the country's most wanted criminal. But his motives may not be as malicious as they seem.

From very different worlds, June and Day have no reason to cross paths—until the day June's brother, Metias, is murdered and Day becomes the prime suspect. Caught in the ultimate game of cat and mouse, Day is in a race for his family's survival, while June seeks to avenge Metias's death. But in a shocking turn of events, the two uncover the truth of what has really brought them together, and the sinister lengths their country will go to keep its secrets.
Review:
Legend isn't what most people might expect when you first read the summary. I expected a lot of action and fighting and death. Dystopia is chaos. Dystopian book is all about a currupt government, a rebellion, and the hero and heroine standing together at the end. I don't know. This book was good. Not extremely great, but not horribly bad. There were parts of the book that I wish that had more to it. But at the same time, I felt that all the thoughts of the characters and action of the novel balanced out each other to a point. To me, there was more of the thoughts than the action. But then Lu turns around and takes the action to a high level that has you turning the page to make sure Day survives or June finally realizes the system is wacked up. It was like a rollercoaster. It had its ups and downs, but overall was a good book.
Plot:
Day is a criminal wanted for a lot of crimes, and after "accidentally" killing June's brother, it becomes her job to track him down so they can take him in and kill him. Eventually, June does catch him by going undercover. Then Day says that he didn't mean to kill her brother, and June looks closer at the photos the other officials send her, and she sees that her brother was killed by someone else, a close friend of theirs.
Kind of a little summary in my part; not a full one, of course. Legend is broke into two parts. The first part is boring because it's just Metias getting killed "accidentally" and June trying to hunt down Day. And then the government taking his family and killing his mom. Yeah....... Sounds exciting, and it is, but other than those little bits of action, it's just their thoughts. (Forgot to mention, both Day's and June's POVs are featured!) And then part two! If you know dystopians like most book readers do, then you should know what happens. June finds out the system is a lie, she decides to help Day escape, they do, and then they join the rebellion. BAM! End of story. Honestly, because I've a lot of dystopians (or what I consider a lot), this story was somewhat predictable. System sucks, rebellion, blah blah blah. I will give Lu props for throwing this big twist into the story. We all knew June was going to join the rebellion (if you read the first chapter of Prodigy before Legend, then I bet you do), but how Lu made it happens makes it genius. See, in the future that is Legend, writing is outdated, kinda like it is in Matched's world, and the thing created from the way Lu made was funny.
The world of Legend is like Chicago. There's the rich sector, and then the poor sectors. And the "suburbs" of each city. And each city is a major city from present day, like Los Angeles. I don't know whether Lu visited Chicago or not, but the world of Legend is very close to it. I've only been in Chicago a handfull of times, but I know enough of the Windy City to know what it's like. It's not home, but I know enough that Lu created a world that is very much like Chicago. Go LU!
Characters:
June and Day. I find it both funny that in a time of betrayals and darkness and secrets, their names both have to do with a time of light. June is a summer month, and day is day. Full of light from the sun. Day is a criminal that is a Robin Hood. Stealing from the government and giving to the poor, and trying to give cures to those who need it. He's very thoughtful, and caring of others, never harming anyone. He's very devoted to his family, despite faking his death. When you read about him, the Robin Hood of the future, you wish you had a boy like that in your life.
June is your average girl prodigy, getting into trouble, graduating early from college, and hunting down a boy she starts to really like. She's smart, and she's determined not to give up on anything, and thinks through things before acting. Typical heroine. But at some times, I wanted to say to her "you're smarter than this, think right." When 15 people were killed, I would have started questioning the system right then and there. Not wait until four days until Day's suppose to die.
Romance
:
It was insta-love, but at the same time, not. Day and June, over a period of several days, bond, and he kisses her. They start to really like each other, and slowly get to know each other while Day's in prison, but at the same time, June doesn't spend much time with him, just wonders about him all the time and feels herself "falling" for him. I say she's just really starts to like him a lot. I don't know. Day is the same way. It's like they fell into extreme Like mode. Not Love, Like.
Ending:
Predictable. But it made me wanting more. It also reminded me of Divergent's ending. Lovers together in the end.
Future:
Prodigy comes out the 29th of January. That's too far away. Anyone got an ARC of Prodigy they don't want?
Quotes:
"I am no longer the Republic's only prodigy with a perfect score." pg. 187
"When I pull her into an embrace, she wipes a tear from my cheek and kisses me. Then she buries her head against my shoulder. And I let myself cry." pg. 299
Rating, Cover, & Ending:
In my opinion, the paperback cover is better than the hardback cover.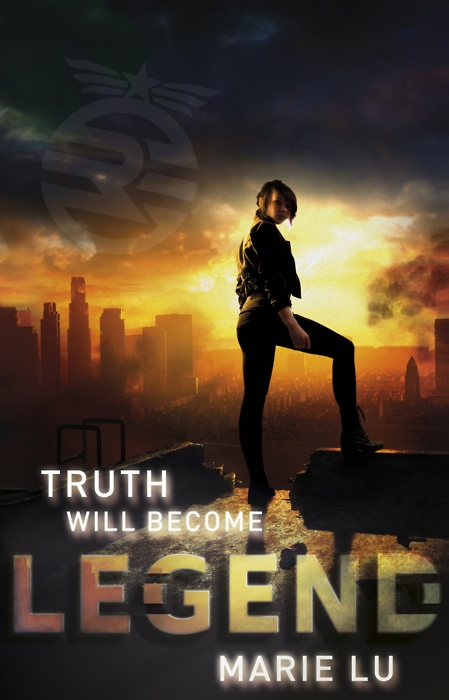 *Won this book
Up Next:
Have started it. Pretty good so far.