KTBWOS is all about posting those giveaways all in one place.
1: So you don't have to make post after post after post.
2: People can view new giveaways all in one place
Here's this week's line up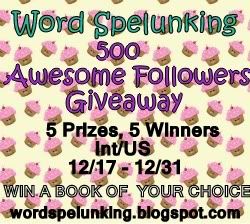 Just like the pic says. 5 prizes, 5 winners. I have to say. This is a cool giveaway.
Word Spelunking
has some great books to giveaway. :D
Either click "Word Spelunking" or the link is on the side bar!
I just took this pic because it was on the post. Anyway,
Joyous Reads
is having: The Year End Edition giveaway. I have to say, this is AWESOME!
Here's what she is giving away.
THE LEADING TOWER OF BOOKS!
Look at all of them. *Sigh*
Well, what are you waiting for?! Get over there now! Just click "Joyous Reads" up top and enter yourself. :D
That's all for now!