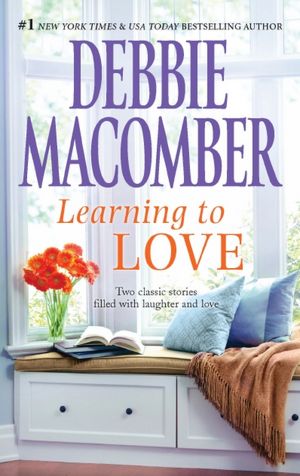 Goodreads:
Sugar and Spice
Librarian Jayne Gilbert needs a man—a man she can bring to her high school reunion. She wants to prove to her former classmates that she isn't the lonely bookworm they predicted she'd become. So, naturally, Jayne turns to a book. It's called How to Pick Up a Man. And it works, even if she attracts the attention of good-looking Riley Chambers only because she's carrying that book, not because she followed its advice!
Love by Degree
Going back to college, hitting the books. That's Ellen Cunningham's new life. But money's a little tight and she's lucky enough to find inexpensive lodging in a house with three young college boys. Ellen plays housemother, a situation that works for everyone—except Reed Morgan, the absentee owner. He's not pleased to find his house occupied by a bunch of college kids and Ellen. Especially Ellen.
Review:
Okay, I can never restist a Debbie Macomber book. Never NEVER! She is my favorite author in the ENTIRE WORLD. Her love stories are just pure GENIUS. I'm a romantic at heart, her books fill me with love. If you like spappie love stories, pick this book up. :D
Secret wishes, sweet surprises, and gifts straight from the heart. Delight in this season's most joyous presents with these four sparkling tales. . .
"Making Spirits Bright" by Fern Michaels
Melanie McLaughlin desperately wants to adopt two orphaned siblings and give them a real home for Christmas. A just-for-the-holiday marriage to Bryce Landry fits her plan perfectly. . .until unexpected sparks have Melanie dreaming of forever by his side. . .
"Runaway Christmas" by Elizabeth Bass
A glass of wine, lounging in pajamas, and catching up on movies—that's Heidi Bogue's idea of a perfect Christmas. Until her thirteen-year-old niece makes a surprise visit—and a snowstorm turns Heidi's café into a community refuge. Now one handsome cop is giving Heidi plenty more reasons to celebrate. . .
"Home For Christmas" by Rosalind Noonan
Jo Truman needs a replacement Santa for her gift shop's Christmas Eve party. She'll do whatever it takes to convince lonely soldier Sam Norwood that he's perfect for the part...and that the season for love is always. . .
"Christmas On Cape Cod" by Nan Rossiter
Maddie Carlson would do anything for her best friend. And helping Asa Coleman babysit a rambunctious puppy Christmas Eve night is her one chance to help the troubled teacher put his past to rest. . .and give the sweetest gift of all.
Review:
Same thing as the first book. LOVED IT! Fern Michaels has four books now like this. Her story in this always continues from the last book. Love it. Then the other ones usually are good too. I love spappy love stories. :D Get this one too. :D
Rating:
The Big Kahuna
Why? Hello? Did you read the review?
Covers:
Endings:
I bought both of these and they were awesome!
Up Next:
Yeah, I know right?! I can't believe it either. :D